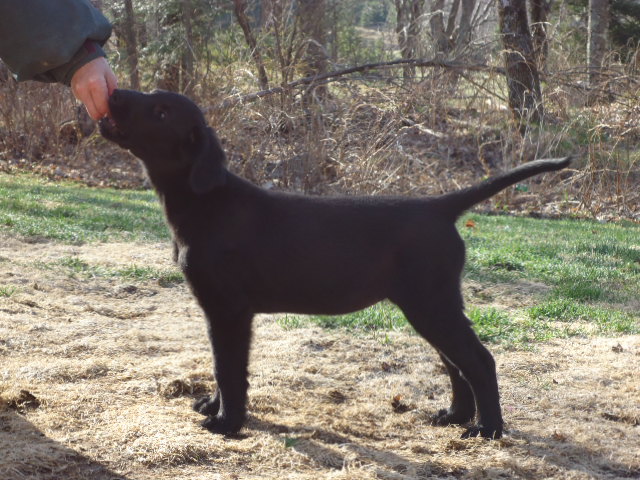 GCH/Can CH. Eden Gold Doubloon, RE, CD,BN, CGC

"Darbi"

(MACH/CH. Wingmaster Journey For Jack Sparrow CDX,VER MX, MXJ

x

Am/Can. CH. Eden Double Dare CD,RAE,NA,NAJ,NJP,NAP,CGC)

"Darbi" is the last of the "Trikki" daughters.  We hope she is as good looking and talented as her older half siblings.  Extremely biddable, loves to retrieve and an excellent nose.  She is a solid mover with an upbeat attitude.  I don't think she will disappoint!  Pictured at 2 1/2 years (above) and 11 weeks(below) of age. "Darbi" started her career with a 3pt major at 6 months and 11 days the day after a supported entry.  She finished her Championship at 13 1/2 months of age with 3-3pt and 2-4pt majors.  She finished her Rally Novice title at 10 months and her Rally Advanced at 19 months. Darbi finished her Canadian Championship at 15 months undefeated in the classes.  Darbi finished her Grand Championship in extremely limited showing at just over 2 years of age.  "Darbi" finished her RE shortly before taking time out for a litter.  She finished her CD shortly after weaning her litter.  This litter included the winners of the 15-18 month Dog Class and 15-18 month Bitch class at the 2015 National Specialty where Darbi finished her BN title and got her first RAE leg.  Who knows what the future will bring?

OFA "Good" Hips

OFA "Normal" Elbows

OFA "Normal" Patella

OFA "Normal" Eyes/Gonio "Normal" 10/28/2014